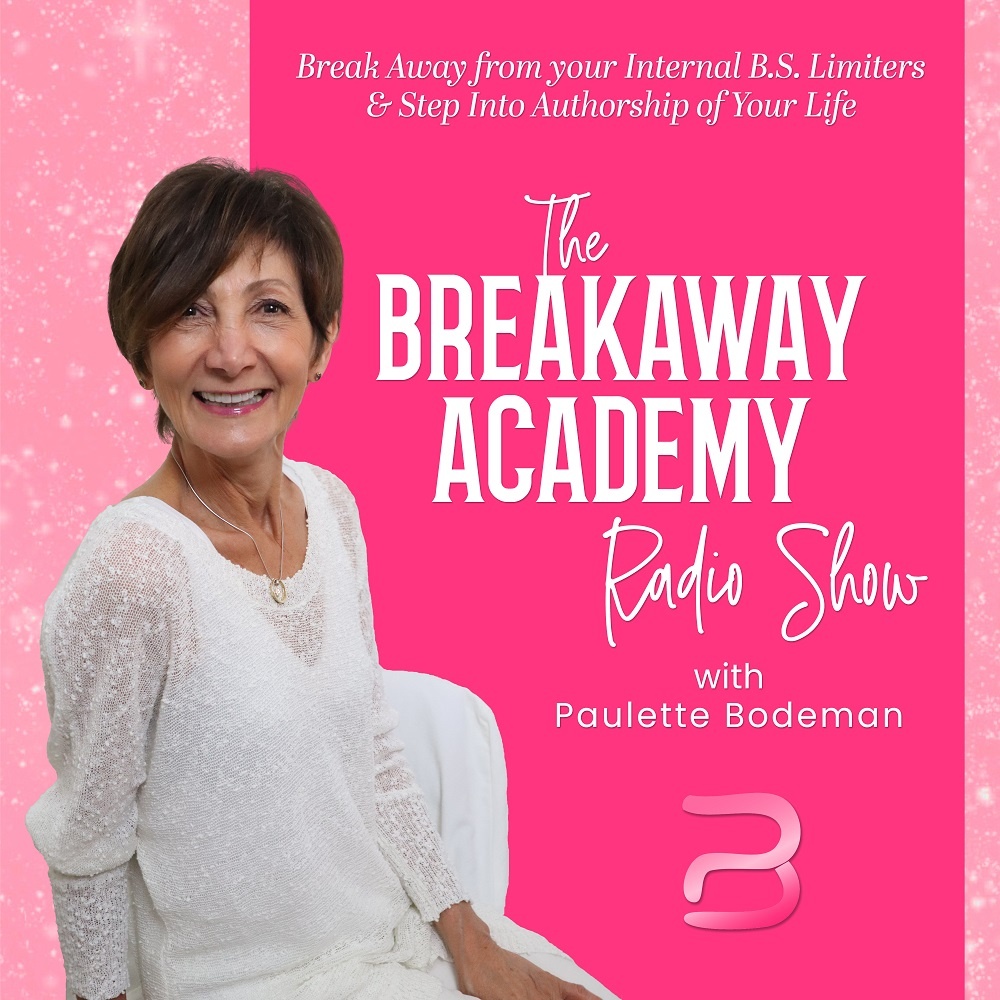 BreakAway from Your Internal BS Limiters
& Step into Authorship of Your Life
With Paulette Bodeman
---
"Through real coaching and intelligent conversation, The Breakaway Academy Radio Show is designed to be a resource to help you break away from the mental and emotional constructs that stop you from living like your life doesn't matter; and start living like you mean it.
Now is the time to show up fully, warts and all, and own your life."


With her no-nonsense, humorous and sometimes irreverent approach to personal growth and leadership, Paulette is determined to help you break away from what is keeping you stuck in the muck of your story; so that you can break free, claim your power,
take action and learn to live your legacy of greatness today.

Bio: Paulette is an international speaker, Certified Integrative Empowerment Coach,
Founder of The Breakaway Academy and an Amazon best-selling author.
---
Intro to The Breakaway Academy Radio Show: Learn whether you're a Breakaway Girl, or Guy. And why it's important that you are.
Radio show #2: "What It Means to Live Your Legacy Today: Don't Wait Until It's Too Late"
RADIO SHOW #3: "Learn About the Three Super- Powers That Will Turbo-Boost Your Legacy Life - Purpose/Passion/Vision
RADIO SHOW #4: What Are Your Ancient Mind-Body Doshas (Physiology) and Why Your Destiny Hangs in the Balance - Self-Awareness/Tridoshas/Legacy DNA
RADIO SHOW #5: How To Turn On Your Inner GPS and Chart a Course To Your Legacy - Understanding Clarity, Core Values and Manifestation of Dharma
RADIO SHOW #6: Turn Your Dimmer Switch Up Full Blast - Clarify Whether Your Inner Critic is Friend, Foe, or Frenemy
RADIO SHOW #7: Plug Into Your #1 Power Source to Fire Up Your Life, Business and Legacy - Cultivating Confidence
RADIO SHOW #8: How To Turn Your Inner Dimmer Switch Up Full Blast And learn to stand in your Legacy Self - The Koshas: the veils that dim your light
RADIO SHOW #9: How To Embody Your Life's Desires - The Science & Power of Yoga
RADIO SHOW #10: How to Master the Magic of Creative Disruption - It's more than you think
RADIO SHOW #11: The Magic of Living a Meaningful Life - A raw and real interview with Dr. Arthur Weinfeld.

Learn why showing up fully for your life is part of your legacy. Why it's important to look at your coulda, woulda, shoulda's. How having a difficult conversation can open the portal to pure love. And the magic of a living a meaningful life.
RADIO SHOW #12: Isabel Banerjee, author of "Who Am I Now? Feminine Wisdom Unmasked Uncensored"

Isabel invites you to enter into the conversation that women have been wanting for far too long. "Who Am I Now?" is a question we woman, and men, have asked ourselves in the intimacy of our hearts and are now ready to question and seek answers out loud and in community.
RADIO SHOW #13: Interview with psychologist, author and meditation teacher, Charlene Jones.
After a harrowing experience at age 16 Charlene shares her story of the healing power of meditation and visualization. She believes that through the knowledge that neuroscience now gives us we all can heal our hearts and minds.